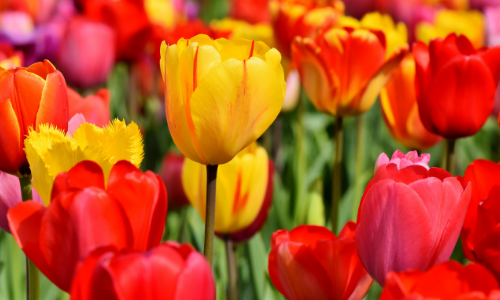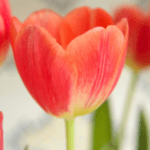 Ranunculus, Orange Emperor, Ice King, Twist and Shout, Oxford, Crocus, Daffodil, Anemone, Regal Flame, Mystique of the East, Pretty in Pink, Red Impression, Dark Star,…and so much more. They are all tulip bulbs.
When they grow, they come in many colors.  Pink, yellow, white, purple, orange,  mixed colors. The colors are breath taking and beautiful!
These are one of the flowers that welcome in the Spring.  Which happens to be  my favorite time of the year.  When everything breaks free, including me!  After being cooped up through the winter.  Now I can go out and see what's stirring out there,…and what bounty  nature has to offer.
HOW TO PLANT TULIP BULBS
Though they are perennial, they are not always reliable and all of them may not come back every year.  But if you do your part,  they will not disappoint you. Tulips like well drained soil, in sun or part shade for at least 6 hours of sunlight.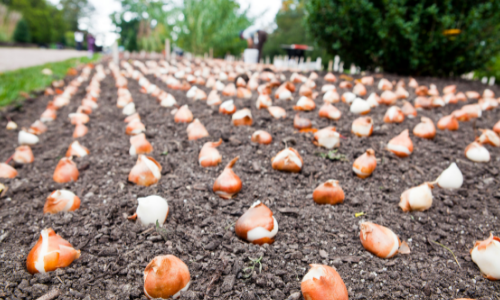 Look for firm bulbs.  When you plant Tulip bulbs, the rule is: The bigger the bulbs the better the bloom.  And remember to look for the right spot for them.
Plant in the fall to the early winter before the ground gets to hard, depends on the size of the bulb 6in or about 15cm for the smaller bulbs, the bigger bulbs should be planted deeper.  Gladiolus and Dahlias are summer beauties and is best planted in the spring.
Plant Tulip bulbs with the point facing up.  Or find the side where there are roots make sure that side is facing down.  Remember! These bulbs needs well drained soil.
And just like you need food for nourishment,  plants do too.  So when you plant Tulip bulbs, make sure to add some compost to the hole or some fertilizer.
Use Mulch when you plant Tulip Bulbs
Check the package your bulbs came in to see how to plant them.  Also, after you have planted your bulb, spread 2 to 3 inches of mulch over the area. This will prevent insects from dining on your plant.  It will also prevent squirrels from finding them.  It can even prevent weeds from taking the nutrients from the soil.
A good watering is also important after planting tulip bulbs.  It helps the plant to establish more quickly.
Don't forget when you are planting , plant in groups– it creates a more spectacular eye catching view!  So design the layout of your bulb garden and just wait in anticipation for Spring! That's what I'm doing, Waiting in anticipation!
CONTAINER GARDENING
Another way to enjoy them is to plant Tulip bulbs in containers.  Use a shallow container.  Make sure the soil is moist.  Place the container in a cool place where their roots can grow–But not freeze through the winter.
Don't forget to water at least once a month and set them outside when the weather starts   to get warmer.
Tulip bulbs have the ability to entertain.  I don't know if it's because it's spring time or the beauty of the colors they produce…, all in all– they are beautiful! And planting the bulbs in clusters will create an  aha moment from everyone. So try growing in containers.  You won't be disappointed.
You also can buy  pre planted pots primed for early bloom. Make sure they're stored in a cool area.   Tulips are great for spring containers.  They will bloom early and strongly if planted in late fall.
Tulips are beautiful.
They welcome Spring.
They love well drain soil.
They are great in Containers.
They are perennial.
They provide lot's of aha  moments in the Spring.
So plant tulip bulbs for the spring… you wont be disappointed.