Each time I go out in my garden I take my Ukoke garden tool set with me. My favorite piece is the apron with the storage pocket. By putting my gloves or the smaller tools in the apron pockets, It helps me to be more organized while gardening. The pruning blades are great!  They're made of high carbon Steel. (Compared to most garden tools which is made from aluminum).
The garden shears allow me to prune, trim and shape the plants as I go along. By cutting the dead flowers, the plants are enabled to continue flowering.
The complete gardening tool set is perfect for all your gardening needs. The Rake for loosening the soil, the Spade for transplanting and cultivating the soil. There is a Weeder, and a Trowel for digging. All the tools are easy to use. And there is a hole for hanging and storage.
As I mentioned, the apron is my favorite part of the kit. Did I also mention that is waterproof? The Kneeling pad is very useful. It provides firm support for your knees when you are getting down to business while gardening. The high quality packing box can be used for storage.  The soft grip handles are comfortable, and help reduce hand and arm fatigue. The Glove its called the "Genie" Gloves because you can use it for pruning your Rose bushes as well as everything else in your garden while it does a Genie's job of protecting your hands.
Full Disclosure: I get a commission and you get a great bargain… It's a win, win all around!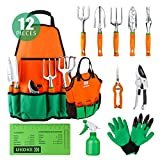 Product: Aluminum Hand Gaden Tool Kit.
Price: $34.98
Cheapest place to buy: Amazon.com
Size: 12 pieces
1 year New replacement part.
My rating 9.5 out 10