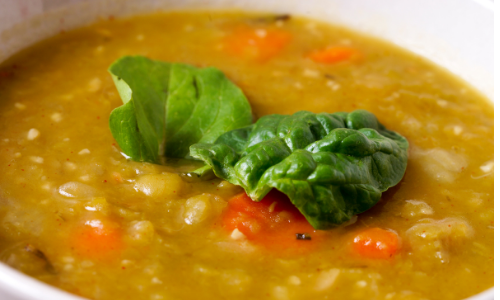 When I hear the word soup, I think of a steaming bowl pf hot healthy soup with soothing and refreshing flavors. The word soup comes from a term used for a piece of bread dipped or soaked, in broth. In the nineteenth century, soup had become the proper way to begin a dinner.
But today soups could be the main meal on the table. Serve with a sandwich, salad, grill cheese sandwich or French Baggett. It could be a hot healthy soup made from the produce of your garden!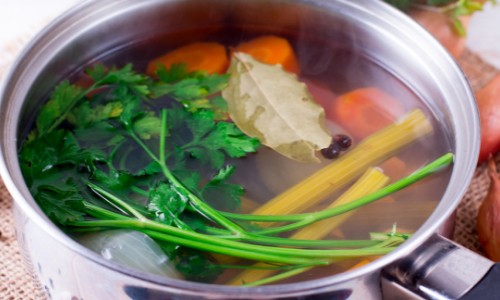 Can you imagine having a yummy potato soup with bacon garnished with shredded cheese? Or a vegetable soup with a rainbow of vegetables grown from your garden. Corn soup, oxtail, split pea, okra… the list could go on and on.
As time permits, I will continue to add some of my favorite soups. And some I really think you'll enjoy.
Most soups are made with homemade stock by using a bouquet garni, with a preferred meat and vegetable. Some use cubes, like bouillon. Bouillon was used by the Victorians. They called it portable soup. They made this hot healthy soup by boiling stock until it turned into a kind of stiff glue.  It was then cut into squares and kept for many years. Sailors, explorers, and the Cooks of Captains, would take a good supply of it with them on their journeys. Even far away from the then known civilization,–they could still enjoy a bowl of hot healthy soup.
Maggie Chicken Soup
With me I love to use a packet of soup flavoring. Like the one I grew up with. "Maggie chicken soup". But today they produce a variety of packs. Not just chicken.
There is an array of flavors, like lentil, veggie, beef,– even lamb. And with the winter at our door, it is nice having these options!  Besides hot coco to warm me up.  Ahaa!… nothing better than a hot bowl of soup with fish, and shrimp, scallion and diced veggies, on a cold winter day!
Sweet Green pea the hot healthy soup
Soup made with tender garden peas is different in flavor from soup made with dried peas. Experiment with both and see which one your pallet prefers. The Green pea soup has a fresh robust flavor. Especially when blended with scallion, which gives it a crisp, fresh flavor.
1 and 1/2 pounds of snap peas in their pods.
5 cups of water.
1/2 a cup packed with sprigs of scallion.
1 Large onion slice.
1 teaspoon of sugar.
1/2 teaspoon of freshly ground black pepper.
1 teaspoon of salt.
1 cup of julienned romaine lettuce.
In a large saucepan heat the water to a boil.  Rinse and drain the peas with the pod on.  Add it to the saucepan.  Stir in the onion, scallion, sugar, pepper and cook briskly uncovered for 15 minutes– or until the peas are tender. Cool the soup and pour it into a blender. Blend until liquefied. Strain in a sieve, then add the salt and taste for seasoning.
Stir in the romaine lettuce and heat the soup if you plan to serve it hot. If you prefer it cold, just chill it until ready to serve.
It could be garnished with a dollop of sour cream, or crouton.  You make it yours and enjoy your bowl of hot healthy soup.
When you decide to make this recipe, don't forget to let me know how it went.
Come with me on my journey, as we help people to grow their ow garden in their back yard.
Please like and share my site.