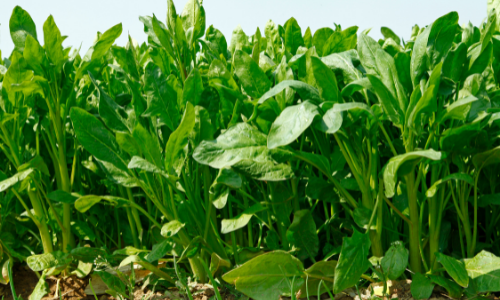 Before we discuss when to plant spinach, let's talk a little about it's origin. Spinach is Persian in origin.  It was introduced into Europe in the fifteenth century.
Spinach is a leafy green plant, which belongs to the Amaranthaceous family.
It is one of the most versatile greens you can grow. Delicious raw in salads, great in scrambled eggs, tasty when steamed, stir-fried with onion, garlic and pepper. Added to soup. It is also one of the most nutritious greens you can grow. It's loaded with vitamins A and C, Iron and Calcium.
To know when to plant spinach, you must know what type of spinach you're planting.  There is the "Cool season", which grows slowly during the cold weather. Then there is the "Warm season spinach".
Many people get confused about when to plant spinach. The Key is not to be afraid to start your spinach plants early in the season. Plant them three to six weeks before the last frost-free day in your area. They geminate well in cool weather, the young plant can tolerate the cool weather. But if you plant to late, the plant might not tolerate the long heat. and this might cause your plant to "bolt"…( in other words they will form seeds before they can be harvested)
When to Plant Spinach in "Cool Season" and "Warm Season"
When to plant spinach – Cool Season 
Cool season spinach prefer well loosened soil.  They normally are half grown when planted.  Cool season spinach can only be picked once. Your second planting should be in late September or October.
Plant them 6 inches in depth and about 12 inches apart. Be sure to protect them by mulching the ground with hay, wood chips, or leaves. The  spinach is ready to be harvested within 40 to 50 days. Some gardeners prefer to just broadcast the seeds in a raised bed when planting them with other plants like tomatoes. The best way to pick them is to cut them from their roots and wash them  thoroughly.
When to plant spinach – Warm Season
Warm season spinach grows rather quickly. Plant in the ground as early in the spring as possible, during February or March. This takes about 3 to 4 weeks after germination.  Nothing should be picked until the plant is well geminated.  Harvest by breaking the tips, 3 to 4 inches long.  It will continue to send out new shoots until it succumbs to the frost.
Varieties
Melody is heavy yield and disease resistant.
Winter Bloomsdale is a nice fall-harvested spinach. They have mosaic resistant savory leaves which should be cut when they are 3 to 4 inches high.  They are also excellent for freezing.  Gardeners in the south where the winters are mild, like to plant it in the fall. Harvesting through the cool month and early spring.
King of Denmark is smooth-leaved, and slow to bloom.  But the bloom lasts a long time.
Olympia is a smooth leaved.
Tyee is another widely popular, savory leaf spinach
So, now that we know when to plant spinach and when to harvest it.  Let's see how we can enjoy it.
RECIPE
Below is one of my favorite ways to cook my spinach!
Sautéed Spinach
3 pounds of fresh spinach.
1/2 cup (1stick) of butter.
Trim the stems from the spinach and discard the stems.
Soak the spinach leaves in lots of cool water to wash away the sand.
Add 1 teaspoon of salt in the water to get rid of any little critters who might be feasting on your spinach.
Shake the water from the spinach leaves and dry them completely. You can use a salad spinner if you have one.
Melt the butter in a large frying pan.
Add the spinach all at once and stir continuously for about 2 to 3 minutes. Until the spinach is limp and shiny.
Take the frying pan from the heat and drain off any liquid –and serve hot. It could be served as a side dish.
Serve 4 to 5 people
Bon Appetit!!