It's fall! Time to clean up your garden. What do you do with all the harvest on the vine?  Like the green tomatoes, peppers and scallions… and so forth.
One of my favorite ways to cook my vegetables is to broil them because it keeps the true flavors while you savor the taste. So get all your harvest together, then wash and slice them.
There is no science to it.  Sometimes I have more of one vegetable than the other… that's ok.  The taste will be out of this world!
Don't take my word for it just try it once and you will be coming back for more!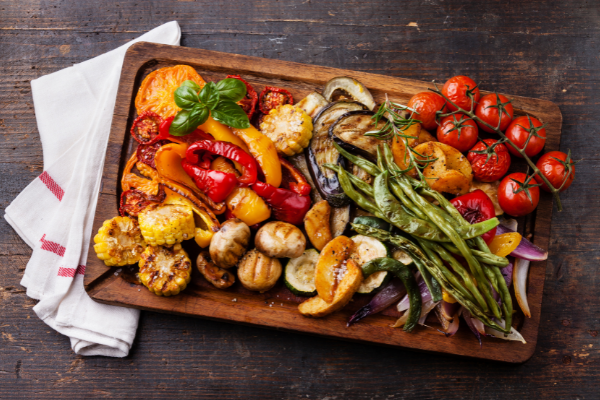 About 1/4 cup of olive oil, preferable but you can use other.
4 to 6 green tomatoes, seeded and cut into thin slices.
2 to 4 peppers, seeded and cut into thin slices or wedges.
1 large onion peel and slice.
1 red onion peel and slice.
3 to 4 clove of garlic mince. [I love garlic] you decrease if you like.
1/2 a cup of fresh scallion, and 1/2 a cup of fresh cilantro chop.
1 teaspoon of black pepper, 1 teaspoon of garlic salt.
1 teaspoon of ground cumin.
In a bowl, combine all ingredients and toss.  Let sit for a minute while you turn your oven on broil.
Using a sheet pan or cookie tray, spread the content of the bowl on the sheet pan, then place on the top rack of your oven.  Remember to leave the door to the oven slightly ajar. Broiling is something you have to keep your eyes on.
Let it roast to a nice brown color.  Do not burn but keep tossing so it will be roasted evenly.
This dish is great with your salad.  No salad dressing needed.   Or — you can make a great stir fry.   Just add some chicken strips to the mix.
Great on focaccia bread for an afternoon snack.
Remember this can be adjusted depending on your harvest.
Just have fun and enjoy!